Many women feel afraid of pregnancy or childbirth, especially those who have this first pregnancy.
Health care is increasingly difficult to obtain in countries where traveling to get it is long and expensive, such as Yemen, where a woman dies every two hours during childbirth from preventable causes, according to UN reports.
Mrs. Majani Al-Bahsani, 20, from Hadhramaut Governorate, felt this fear as she went through her new pregnancy experience.
Her fear is justified, since she lives in a remote area of Al Shihr district, lacking health care services and unable to reach health care centers far away.
Timely health care
Majani's fears almost created many complications that would harm her health and her fetus. She was able to overcome these fears thanks to the psychological and awareness support provided to her by the integrated project that provides the most vulnerable IDPs with a minimum package of WASH, health, and protection services, implemented by HUMAN ACCESS with funding from Yemeni Humanitarian Fund (YHF).
Majani was once again filled with fears as she approached childbirth, fearing severe complications or inability to access health care.
With the onset of labor pains, she was fortunate to have the project's medical team, consisting of a female doctor and a midwife, in her Al Madhabi area.
Once the medical team was informed of Majani's condition, they quickly went to her house to provide her with the needed health care in a timely manner.
And it wasn't long before the beautiful event occurred, the birth of a "Majani" healthy baby boy that would enlighten her life.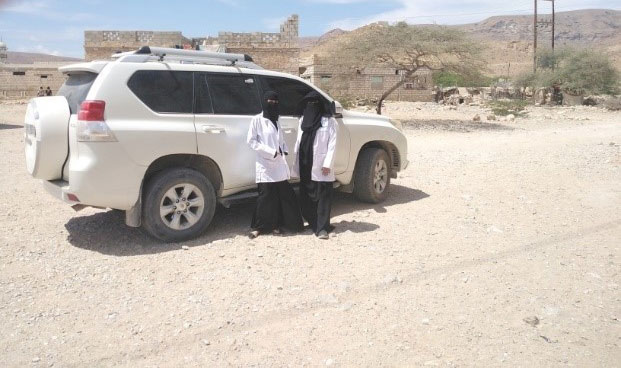 Services extended to after safe delivery
The services of the integrated project did not stop at safe delivery, but extended for a month after birth, during which mother and child health services were provided within the services of this project, implemented by HUMAN ACCESS in Hadhramaut during the period from March to October 2022 with the support of (YHF).
We do not know what would happen to Majani and her child if she did not receive these services, but we do know that healthcare services contribute to saving the lives of many people, especially in Yemen. That's because these services are still depleted throughout the country and completely absent in some areas due to the ongoing war.